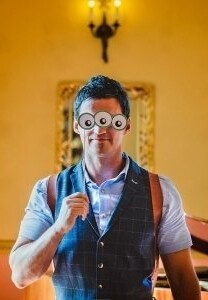 Dan
Morris
Bristol
🇬🇧 The United Kingdom
Hello, I'm Dan Morris, a professional photographer originally from South Wales, now based in the beautiful regency town of Cheltenham in the heart of the Cotswolds. Feel free to read about me and what I get up to.

I specialise in wedding photography within the UK and abroad. Capturing images that are truthful, beautiful, unobtrusive, and often infused with a touch of personality! I really love what I do and I spend a lot of time refining, perfecting and even obsessing over my work… it's a passion.

I love the unique style and atmosphere of every wedding and thrive upon capturing every special moment I see. Getting the opportunity to photograph weddings is a truly privileged experience. I enjoy working closely with each couple to ensure they too put at stamp on their wedding photography, and that the final images exceed their expectations.

My relaxed, photo journalistic approach to weddings means I document most of the day without intrusion. I can't help but have fun at a wedding myself – so I infuse this with the wonderful atmosphere around me and bring it into every photo I take.